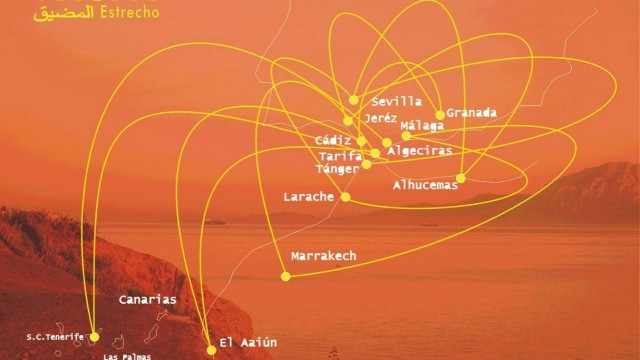 Indymedia Straits of Gibraltar
Indymedia Straits of Gibraltar, the emergence of another kind of territory
Around 2003, along with other collectives from Andalusia and North Africa, hackitectura participated in the conceptualization and launching of Indymedia Estrecho. The project arose at a moment when the global community was debating the crisis of the indymedia model.
After constructing networks and debates, our community decided to take on the development of a new type of indymedia. The first innovation consisted of approaching indymedia as the basis for producing "another territory." Spread across the border of the Straits of Gibraltar, our proposal was to participate in the creation of new cartography, a cyborg territory that we actually saw emerging along the banks of Europe and Africa. For us, the communications space of Indymedia Straits was not only an additional layer placed on top of the territory, but it was also a tool for recreating a bio-political space in order to produce hybrids of physical and digital between immigrants and technologists, activists and communicators.
Looking back at what has happened between 2003 and today, we must point out that not all the objectives have been met. From a territorial standpoint, it has worked better on the Andalusian side. From the bio-political standpoint, it has worked, though modestly—especially between 2003 and 2006—as a catalyst for the creation of networks and new real events. From the standpoint of collective enunciation and information, it continues to work, at least at particular moments, such as the 2005 crisis of Ceuta and Melilla, as a relevant point of reference in questions concerning this territory.